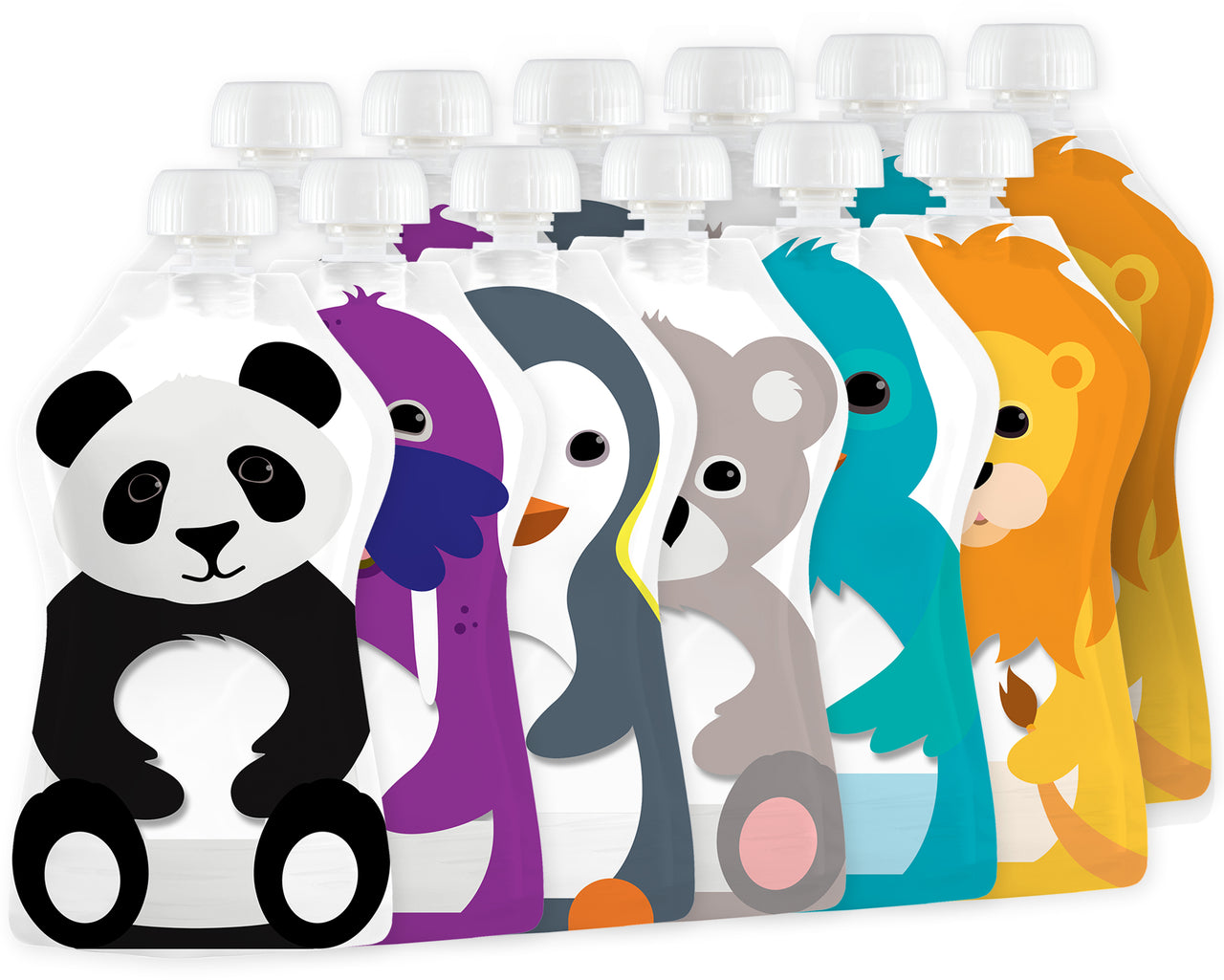 Freeze, store & serve homemade baby food from the same container.  Hooray!   

Our small pouches hold just over 3.4 oz and are upright with a top spout which make them perfect for your little foodies small hands.  Babies love looking at these little friends while slurping down your delicious homemade meals. Eco friendly, BPA Free and travel ready, Squooshi pouches are the perfect choice for on the go healthy feeding.
Making your own baby food allows you to control exactly what ingredients are going into your little ones body.  You also save money compared to store bought baby food and disposable pouches! 
Less waste, less mess, more yum!
 FEATURES
Perfect Size & Shape - Most similar to store bought pouches with a top spout and curved shape which is natural in child's hand.
Durable & Long Lasting – 1 Year Guarantee. Our pouch is leak proof and made to last. If you find your pouch has a fault within a year of purchase, we'll happily replace it.
Capacity – Holds just over 3.4 oz, which is the same as large freezer cubes.
Easy to fill - Wide bottom opening allows a direct spoon or pour.  No funnels or accessories needed.
Easiest pouch to clean & dry - Bottom zipper & rounded shape allows for a complete rinse of water to stream through pouch.  Bottom zipper allows for pouch to be fully opened to air dry.    Air can completely dry interior of pouch unlike top zipper pouches which can grow mold.
Freezer Safe - Store & Serve from the same container. Doubles as an adorable boo boo pack or lunchbox freezer pack!
Dishwasher Safe - Rinse after use and place in the top rack
Safe for Baby - Features a no choke cap, small size, curved shape, upright, easy for little hands to hold and squeeze.
Compatible - With most silicone soft caps, spoon attachments and filling stations.
Non Toxic - BPA, Lead, Phthlate & PVC free
FAA / TSA compliant—approved for airplane travel
Perfect for all ages. Babies & Kids love the animal series while older kids and adults on the go like the G.O. pouches.
Reusable, Refillable, Convenient, Affordable, Adorable & Fun!